The many beautiful beaches in Biograd na Moru make this coastal town a really popular vacation resort and a real highlight in the Zadar region! To the left and right of the old town, but also in the immediate vicinity, you will find a real variety of dreamlike bathing bays, one more beautiful than the other. Especially popular is certainly the Plaza Drazica, the stunning main beach, which is also the tourist center. In addition, there are numerous other great swimming spots, fine pebble beaches and even small sandy beaches along the coast! What are the best beaches in Biograd, what are the insider tips, and which bays are particularly suitable for a vacation?
In this travel guide we will show you the ultimate best beaches in Biograd na Moru. In addition, you will find numerous tips and information that will definitely help you plan your trip!
Drazica Beach
The main beach Plaza Drazica is certainly one of the most popular beaches in Biograd. This fine pebble beach is located on the waterfront in the south of the old town and can be reached on foot in a few minutes. Most beautiful are the bright blue sea colors, which together with the light pebble and green pine trees conjure up a phenomenal backdrop. Thanks to the perfect facilities, cleanliness and top water quality, this beach has been equipped with the Blue Flag as an award. Just behind it runs the waterfront promenade towards the port, where you can find plenty of bars, restaurants and souvenir stores.
In addition, a wide range of leisure activities await you, such as water sports rentals, parasailing, banana boat, jet skiing as well as a large water slide that provides action.
Tip: About 5 minutes' walk from the beach is Villa Maimare, a lovely B&B with delicious breakfast and some wonderful rooms!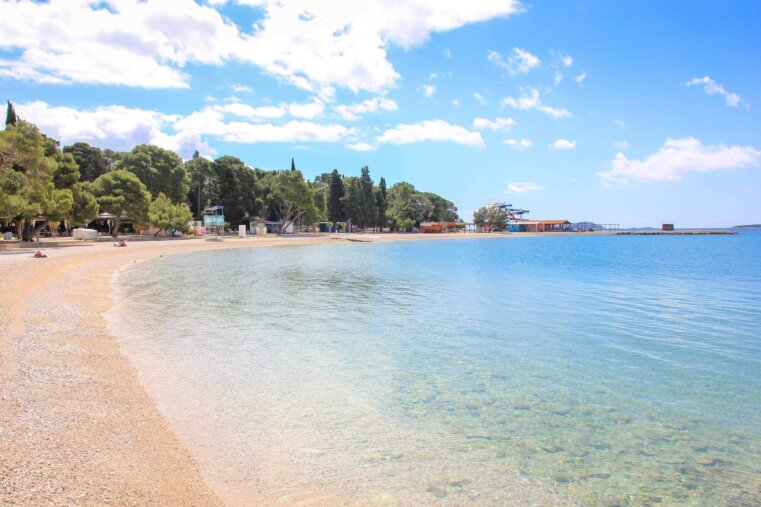 Sandy Beach Soline
South of the center, just off the main beach, is the beautiful Beach Soline. It is a top beach in Biograd and for many it is also one of the most stunning in the region. This paradisiacal bay delights with a very fine pebble beach, which even turns into a sandy beach in the sea! Picturesque are also the many green pine trees around the bay, which together with the turquoise sea conjure up a particularly impressive backdrop and provide the necessary shade in summer. Especially families with children, but also older people and non-swimmers love this very shallow sandy beach, which offers optimal conditions for safe swims.
Food and drinks are provided by the numerous beach bars, cafés and restaurants along the promenade, and water sports and recreational activities such as water hopping, pedal boats, kayak rentals and much more are also available.
Tip: Not far from Plaza Soline are several great mobile homes. Really popular are the Lucija Mobile Home and the accommodation units of the Campsite Sunny Home Soline.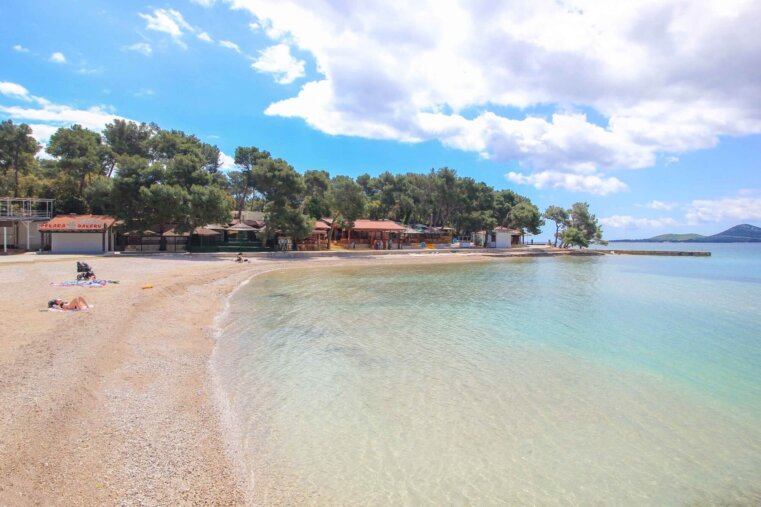 Bosana Beach
The picturesque beach Bosana borders on a vacation settlement in the north of the town center and can be reached by a walk from there. Especially fantastic is the pleasant atmosphere, which you can enjoy even in the peak season during the vacation. The northern section of the beach is usually relatively quiet, but further south there is even a small selection of snack bars, and water sports activities are also offered. Children can enjoy a playground and a volleyball court is also available for young and old.
Tip: Directly behind Bosana beach there are beautiful modern vacation apartments such as Apartments Villa Marija II, which are perfect for a quiet beach vacation in Biograd.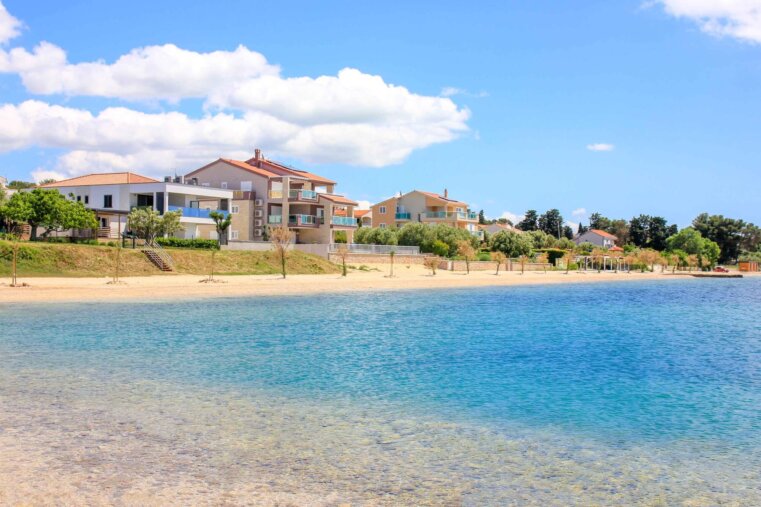 Beach Park Soline
The Beach Park Soline is located south of the old town of Biograd, not far from the sandy beach Soline and adjacent to a popular campsite. Along the promenade there are even several beautiful pebble beaches, separated by piers, which are wonderful to go swimming and snorkeling. Behind them, you will find various snack bars and also stands that offer water sports activities. Shade is provided by the old pine trees, which give this bay an enchanting Mediterranean flair. In the high season well visited, one experiences this beach section rather quiet and relaxed in the low season.
Tip: In the camping area, you will find various mobile homes like the Campsite Sunny Home Soline, only a few steps away from the sea and the beautiful beaches!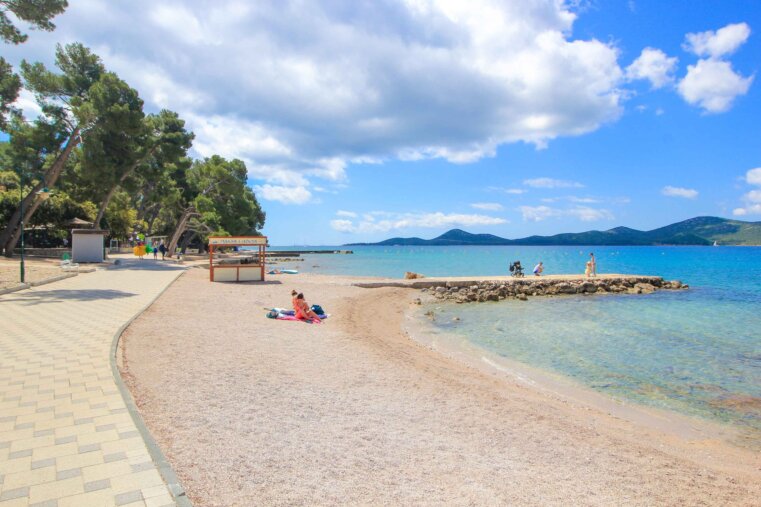 Beach Crvena Luka Resort
One of the most beautiful beaches in Biograd is definitely Plaza Crvena Luka. This long, beautiful bay is located about 5 kilometers south of the town, directly below the Crvena Luka Resort, and is also accessible to non-hotel guests. On this part of the coast there are numerous idyllic bathing places, partly hidden between pine trees in picturesque nature and forming real postcard scenery with the turquoise, crystal clear seawater. Small pebble bays, beautifully arranged stone beaches and even small sandy beaches offer the perfect spot for sunbathers and swimmers alike!
Tip: Directly in the bay is the eponymous Crvena Luka Resort, a beautiful 4-star hotel with great apartments and luxurious villas right by the sea.
Kumenat Beach
The Beach Kumenat is a real dream bay and, moreover, a real insider tip as one of the most beautiful beaches of Biograd! This quiet bathing beach is somewhat hidden below a small vacation settlement a bit away from the center, and is therefore perfect for a relaxing beach vacation. It is mainly the Caribbean turquoise blue water colors that, together with the light and fine pebbles, make this bay something exceptional. The sea is extremely clear in this bay, so you can discover numerous fish and crabs while snorkeling.
Tip: In the nearby vacation settlement you will find many great apartments. Especially recommendable is Apartmani Kumenat with modern furnishings and a good location.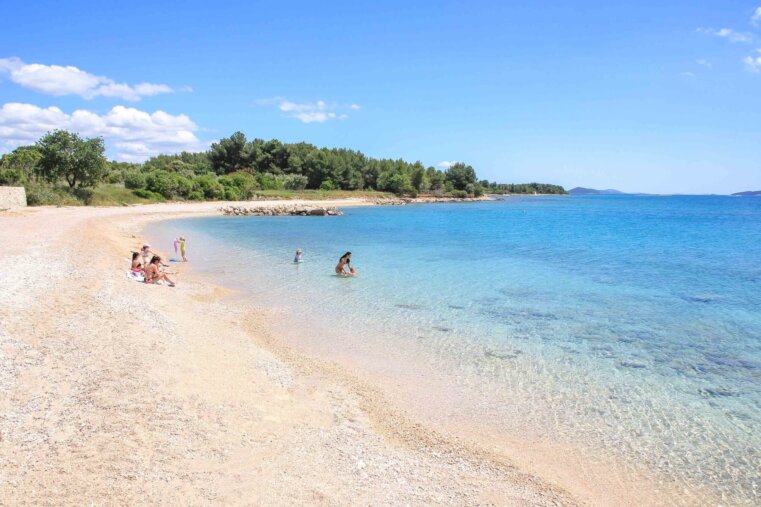 Lumbrak Beach
Beach Lumbrak has not yet been established for tourism, which makes it a perfect choice if you are looking for peace and relaxation during your vacation. Surrounded by dense pine forests in a beautiful natural landscape, this bay has an extremely idyllic ambience. Although this natural beach is a bit rough, after a few meters in the sea the bay turns into a very fine sandy beach. Therefore, as with many beaches in Croatia, you should not forget to wear bathing shoes. A few minutes' walk away is also a nudist beach. Perfect for those who prefer textile-free bathing in nature!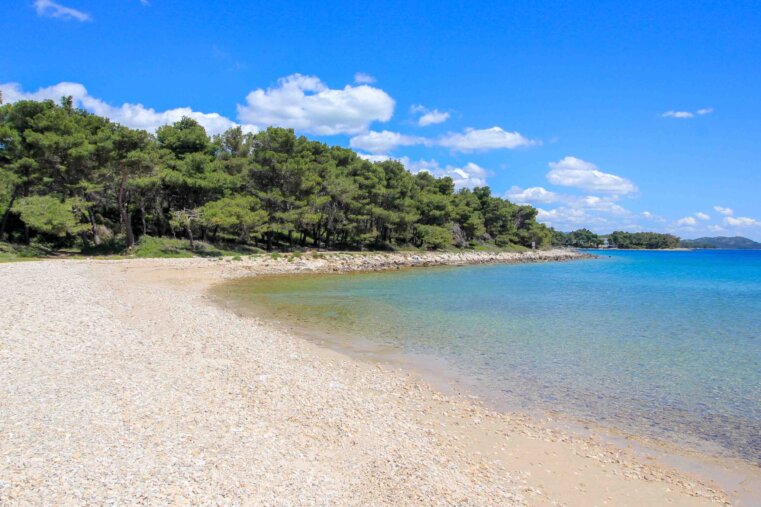 Related Articles